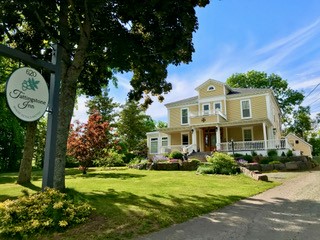 WHERE DETAILS MATTER
Tattingstone Inn is a local gem of traditional elegance and history, nestled on one and a half acres of beautifully manicured  grounds in picturesque Wolfville, Nova Scotia.
Our Inn is ideally situated for a perfect relaxing getaway experience while allowing you to enjoy everything that the Annapolis Valley has to offer. 
Enjoy local cuisine, market fresh fruit and vegetables, local artisan shops and amazing shopping. Explore  local vineyards and indulge in a wine-tasting tour, discover hiking country at its finest, or venture on bird and whale watching excursion.. you can even walk on the ocean floor. There truly is something special for everyone to enjoy in The Annapolis Valley. 
Let Tattingstone Inn's tranquil energy envelop you. Enjoy our gourmet complimentary breakfast, luxurious accommodations, and a gracious, friendly Nova-Scotian welcome during your stay with us.