Clock Park
Clock Park was donated by Arthur Irving to the Town in 1999.  The site has a rich history in Wolfville; from a seminary to a hotel, to a student residence and then, a service station.  The park is now a beautiful green space in downtown Wolfville where residents and visitors alike can gather for lunch or special events.
Clock Park s the perfect downtown meeting space, connecting the community to the Acadia campus. The space is often used by community groups for political demonstrations, community rallies and makeshift memorials.
Waterfront Park
Waterfront Park offers stunning views the Acadian dykes, Minas Basin and the red cliffs of Cape Blomidon. Waterfront Park is a great place to start a hike or bike along the Harvest Moon Trail and then to revisit to enjoy a picnic lunch at the gazebo. Watch the tides change before your eyes!
Free concerts happen at the Gazebo watch for schedules for the Summer Concert Series that is offered in partnership with Deep Roots Music Cooperative.
Public washroom facilities are located across the parking lot on the back of the Railtown building.
Image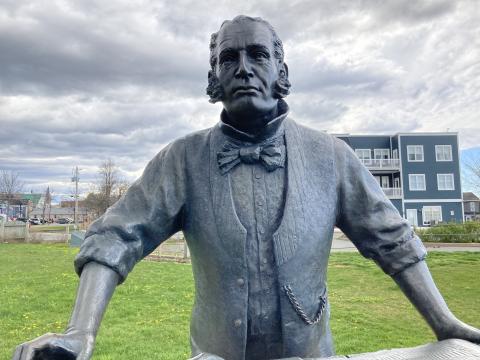 Rotary Park
Located at the east end of Wolfville on Victoria Avenue, Rotary field is home to an abundance of recreational opportunities.  Leased to the Town beginning in 1976, by the Rotary Club of Wolfville, the Town has since assumed responsibility for its maintenance.  
Rotary Park now houses:
A field house with office space, multipurpose room and three -seasons room
Three paved tennis courts
Two soccer fields
Kipawo-themed play structure
Outdoor table tennis
Public washrooms
Part of the Millennium Trail
Parking lot access from King Street
In 1949, Dr. Lalia Chase, Port Williams, leased an eight-acre field to The Rotary Club of Wolfville for recreational facilities.  Subsequently, the Club purchased and inherited this and additional land, expanding the northern boundaries and providing access to the field.  In 1976 the Club leased the land to the Town and continues to lease it to this day.  The Town appreciates working with the Rotary Club of Wolfville on projects that improve our community.
Acadia's Woodland Trails
This system is made up of approximately 2.3 kilometres of trails winding their way through approximately 50 acres of woodland. This trail provides a peaceful path through our Town with besutiful views and changing naturescapes along the way.
Millennium Trail
Beginning at the Wolfville Harbour, the Millennium Trail winds its way through Willow Park, Rotary Park and then through the Sherwood Ravine ending in Reservoir Park at the East end of Pleasant Street.  This trail system has approximately 2 kilometres of trail.
Wolfville's Rail Trail
This trail is located adjacent to the old railway tracks in Wolfville.  The trail begins at Victoria Lane and continues westward a distance of 1.8 kilometres to end at Cherry Lane.  The portion of trail from Elm Avenue to Cherry Lane was built with the assistance from the Kieran Pathways Society. The Wolfville Rail Trail is part of the Harvest Moon Trail, that connects Grand Pré to Annapolis Royal.
Reservoir Park and Trails
These trails have a direct connection with the Millennium and Mountain Bike Trails.  There are 1.8 kilometres of trails in Reservoir Park, that take you through the managed forest and around the two former reservoir ponds.
Reservoir Park is an off-leash dog area.
Outside of Wolfville
Cape Split
If you are looking for a day hike and a spectacular view, visit Cape Split!  The 16 km trail is located roughly 20 minutes outside of Wolfville.  If you choose this adventure give yourself at least 5 hours to hike out.  Pack a lunch and enjoy a picnic while viewing one of Nova Scotia's most famous rock formations.  For more information visit  www.novatrails.com/annapvalley/trails/capesplit
Blomidon Provincial Park
Located 15 minutes outside of Wolfville is Blomidon Provincial Park where you can enjoy 14 km of all season trails with numerous panoramic views of the Minas Basin.
The Wolfville Watershed Nature Preserve
 sits within the Gaspereau River watershed on the South Mountain. With spectacular views of the Gaspereau Valley, the Minas Basin and Cape Blomidon, the 605 acre Nature Preserve is home to many exceptional natural features:
Old-growth Hemlock forest towering above large, steep sided ravines
Acadian forest on the path to becoming the old-growth Acadian forest that once thrived on this landscape
Undisturbed wetlands feeding Duncanson Brook and Little Indian Brook
Interesting plant life including pitcher plants, cranberry bushes, Rose Pogonia and Spotted Coral-root orchids
Old-growth forests like those found in the Preserve are now exceptionally rare in Nova Scotia. Most of these old forests have been logged or converted to agricultural use, so that today, less than 1% of Nova Scotia's current forests are old-growth.