Valley Latin Dance Festival
Important announcement, the Festivities are still on, rain or shine! 💃🕺🌞☔️💃🕺

Good morning Wolfville and friends. We are very excited to be hosting a family friendly day of free fun at Waterfront Park in Wolfville. 

Today, we welcome Frederic Mujica ''The Lost Tourist'' Latin Musician, the live one-man Cuban band, and we are thrilled that the Mama Pita food truck will be joining us as well. There will also be free refreshments and snacks for all participants to enjoy, courtesy of Carl's Independent Grocer. Word on the street has it that Mudley, the Wolfville mascot, may also be joining us for some dancing today.

Regarding the weather...There is a chance of rain this afternoon, but we are not worried about that, as we do have YogaLife (344 Main Street), as an alternate location if needed. 

If you are planning on joining us just for the Conga Line only, we will be lining up on the corner of Main Street and Gaspereau Ave, by the Tan Coffee, and will begin dancing towards Clock Park at 4pm RAIN OR SHINE!

Why join the Conga Line? Aside from it being a whole lot of FUN, all Conga dancers are automatically eligible to participate in the Conga Line and Dine promotion, which is available today only by generous donation of Troy Restaurant and Grill and the Kings Arms Commons. To receive 15% off dinner tonight, simply show them your Conga Line ribbon.

All other details, including the full schedule of events can be found on our website: https://annapolisvalleydance.com/latin-dance-festival
Latin dance lovers are invited to salsa by the sea on Saturday, July 15 as the Valley Latin Dance Festival comes to Waterfront Park for a day of FREE family fun!
12pm Live Latin Music
1pm Salsa lessons (beginners)
2pm Live Latin Music
3pm Merengue Lessons (beginner)
4pm The Main Street Conga line!
Image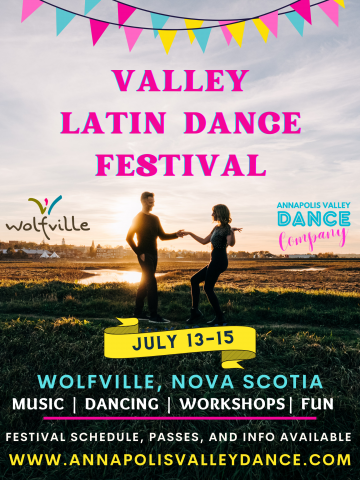 This event is not organized by the Town of Wolfville.
For more information about this event, contact the organizing host.