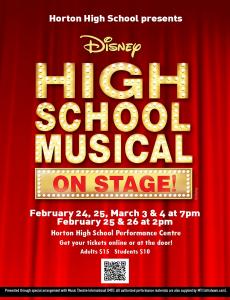 Disney High School Musical On Stage from February 24 - March 4. This will be the school's first musical theatre production since 2018 and we're looking forward to packing our performance centre for what is sure to be a great show! Tickets are on sale now! Adults: $15 Students: $10 Tickets available...
This event is not organized by the Town of Wolfville.
For more information about this event, contact the organizing host.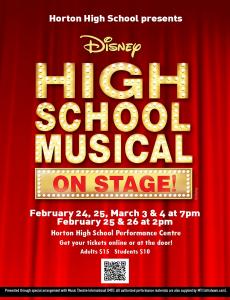 75 Greenwich Road
Wolfville, NS
B4P2R2
The Coldest Night of the Year is a winterrific family-friendly walk to raise money for local charities serving people experiencing hurt, hunger, and homelessness. Join us on February 25, 2023 - team up, fundraise, walk, and gather for good... because it's cold out there. Members of Council will be...
Waterfront Park
Wolfville, NS
B4P1A1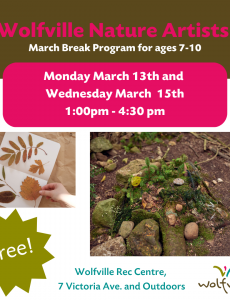 Nature shows us how we can all be artists! This program combines environmental exploration with storytelling, arts, crafts, and games to learn about how nature in Wolfville can inspire creativity. Participants will develop their artistic and crafting skills through fun activities that promote nature...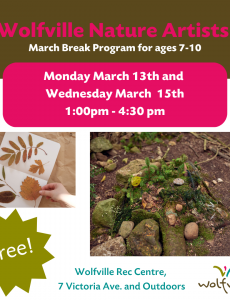 7 Victoria Ave
Wolfville, NS
B4P1A1